Anthony Alfredo Battles to Second for MDM Motorsports at Langley
PRESS RELEASE
MAY 1, 2018 11:52 EDT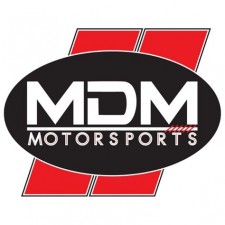 Hampton VA, May 1, 2018 (Newswire.com) – Anthony Alfredo and MDM Motorsports nearly accomplished their goal of winning Saturday night's Visit Hampton VA 150 K&N Pro Series East race at Larry King Law's Langley Speedway in Hampton, Virginia before finishing a close second.
Alfredo was behind the wheel of the Ceco Building Systems, Oxford energy, Mechanic Shop No. 40 Toyota. He qualified third fastest and ran in the top five all night. The 19-year-old was leading with less than ten laps to go, but the slower traffic he was trying to navigate didn't work out in his favor.
"Not all of them got out of the way when we needed them to," the driver with the easy smile said after the race. "They were too busy racing each other to realize the leaders were racing each other right behind them.  I can't thank Robert (Huffman – crew chief) and this whole team enough for giving me a car to win the race. We started third, had the lead and finished second. We wanted the win, but we'll go to South Boston and get after it."
Huffman was pleased with the weekend.  "That was the best weekend from start to finish that we've had this year. I think Anthony getting extra seat time here in the late model really paid off.  Now we go to South Boston, a place he's also been to before, so hopefully we can build on this weekend and get the win there."
The next race for Alfredo and the MDM Motorsports team will be Saturday, July 12 when South Boston Speedway in South Boston, Virginia hosts the Who's Your Driver Twin 100's.  Many of NASCAR's biggest stars, past and present, cut their racing teeth at South Boston.
Richard Petty won four Monster Energy NASCAR Cup Series events here in the 1960's. Benny Parson's first Cup win was at South Boston.  Current NASCAR stars including Denny Hamlin, Elliott Sadler, and Timothy Peters began their careers at South Boston.
Keep up to date on Anthony Alfredo's racing career…
·      Website: www.anthonyalfredo.com
·      Facebook: https://www.facebook.com/anthonyalfredoracing
·      Twitter: https://twitter.com/anthonyfalfredo?lang=en   
·      Instagram: https://www.instagram.com/anthonyfalfredo/
Additional information about MDM Motorsports is available at www.MDMmotorsports.com, find us on Facebook and follow us on Twitter @MDMmotorsports.
Media Contact: Rod Wortham
Email: Rod@racefacebd.com
Phone: (727) 999-2628