Berry Fifth, Alfredo Sixth at Rodney Cook Classic Run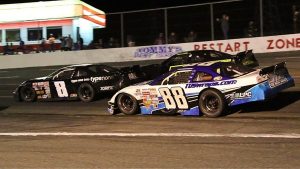 ALTAMAHAW, N.C. – JR Motorsports Late Model drivers Josh Berry and Anthony Alfredo both recorded top-10 finishes Saturday night at Ace Speedway in the Rodney Cook Classic 140 for NASCAR Whelen All-American Series stock cars.
Berry qualified 13th and was stuck in traffic for much of the opening segment of the race, despite a number of cautions in the 30-car field. The race was run with cone restarts, in which drivers can choose inside or outside for the restarts while on the backstretch, and Berry said the system lost even more track position for him as the race went on.
Alfredo started 11th and worked his way toward the front despite a number of cautions. The first of those many accidents came in the first corner of the first lap, among the leaders. Advancing with the ebb and flow of the race, Alfredo ran from fifth to seventh most of the first 100 laps, ending the 100-lap first segment in fourth place. Berry was in the top seven at the break, but got spun about the time the flag waved and ended the break in 12th.
After a break to refuel and make adjustments, both drivers worked hard to advance. Berry had the rougher path forward, and worked his way to fifth by the checkered flag. Alfredo had to deal with Timothy Peters, who had changed a right rear tire during the caution. As that battle grew in scope, Alfredo got pinched nearly into the outside wall on the front straightaway, which allowed Peters to get by on the inside for fourth.
Berry trailed his teammate for the remaining laps until, with two to go, he managed to get underneath Alfredo's No. 8 Chevrolet and take fifth spot at the checkered. For Berry, it was his 11th top-five finish in 22 races, which includes six victories. For Alfredo, it was his 17th top-10 in 23 races, and that includes three victories on the season.
The JR Motorsports Late Model teams are off until Nov. 18, when Berry and Alfredo will compete in the annual Myrtle Beach 400 at Myrtle Beach (S.C.) Speedway.
Josh Berry, driver No. 88 The Decal Source Chevrolet team
"After qualifying like we did, I felt pretty confident we were in a pretty big hole from the start. It was really hard to pass, and at the beginning we just couldn't catch a break with the lanes and lost even more track position. As the race went on, we were able to start working towards the front and got spun out and lost a bunch of spots again. Fifth was a decent finish for the race we had, but ultimately it was just not our night."
Anthony Alfredo, driver No. 8 Ceco Building Systems/JDRF Chevrolet team
"We had a decent car but not quite good enough for the leader and eventual race winner. I do think we had a shot at a top-three but we got bounced around on that last restart and (Timothy) Peters was faster with the new right-rear tire. Josh had a bit more speed as well since he was able to conserve more by riding in the back earlier in the race. It was a solid night considering how many wrecks there were and what we could've been involved in. I want to thank JR Motorsports, my family and partners for their help. We have our sights set on Myrtle Beach for the 400 as that is our last race of the year."