AFA Motorsports Announces Anthony Alfredo to Compete for 2018 K&N East Championship
PRESS RELEASE
UPDATED: JAN 18, 2018 15:24 EST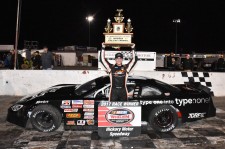 New Port Richey, FL, January 18, 2018 (Newswire.com) –   Anthony Alfredo announced today that he will be joining the reigning NASCAR K&N East Champions, MDM Motorsports for the 2018 season. The NASCAR K&N Pro Series, which includes the East and the West divisions, is the top step in NASCAR's developmental ladder before drivers progress to the three-national NASCAR Series, the Camping World Truck Series, the Xfinity Series, and the Monster Energy NASCAR Cup Series. "MDM is a great team with proven success at the next level. I would like to thank them for allowing me to become a part of their team. I am grateful for this opportunity and plan to make the most of it." said Alfredo.
Anthony Alfredo is an 18-year-old race driver from Connecticut who has emerged as one of the brightest prospects for future NASCAR Cup Series stardom. Anthony was selected to drive for Dale Earnhardt, Jr.'s JR Motorsports (JRM) team in the Late Model division of the ultra-competitive CARS Tour in 2017, and finished a close second in the championship to his much more experienced teammate, Josh Berry. Anthony topped off the 2016 season by winning the Southeast Limited Late Model Pro Division, driving for Lee Faulk Racing and Development.
Alfredo is also driving under the Ranier Racing Development program with top NASCAR talent scout Lorin Ranier. Anthony will be teaming up with Crew Chief and former Goody's Dash Series Champion Robert Huffman.  "For as little racing experience as he (Anthony) has, I think he has done a great job in his career thus far," said Huffman. "I'm looking forward to working with him this year.  Finishing second in the CARS Tour Championship by just a few points to someone like Josh Berry shows he already has the ability to run with top competition."
"I'm really excited about joining MDM Motorsports this year to race for the K&N East Championship.  I am looking forward to working with all of the great individuals that are a part of their team and cannot wait to get to New Smyrna Speedway for our first race on February 11, 2018." said Alfredo.
Make sure to keep up to date on Anthony Alfredo's racing career at…
·      Website: www.anthonyalfredo.com
·      Facebook: https://www.facebook.com/anthonyalfredoracing
·      Twitter: https://twitter.com/anthonyfalfredo?lang=en
·      Instagram: https://www.instagram.com/anthonyfalfredo/
 Career Highlights:
·      2015 Win at Tri-County Motor Speedway in 8th race in a full-size car
·      2016 Win at Greenville-Pickens Speedway in Southeast Limited Late Model Pro Division
·      2016 Qualified on the front row at Myrtle Beach 400
·      2016 Southeast Limited Late Model Series Pro Division Champion
·      2017 CARS Tour Finished 2nd in points standing (2 wins, 8 top 5's and 11 top 10's)
·      2017 – Fall Brawl 200 Winner at Hickory Motor Speedway
RACING FOR A CAUSE:
Anthony Alfredo and AFA Motorsports have recently partnered with JDRF to help them get the word out about Type 1 Diabetes. T1D is a completely different disease than Type 2 Diabetes and is often misunderstood. Anthony will be using his racing program to help educate the public about T1D and help raise funding for research.
In Anthony's own words: "My cousin Morgan is a few years younger than me and was diagnosed with T1D just after her sixth birthday. I grew up seeing how she had to deal with the disease by pricking her finger 10 – 12 times a day to check her glucose level and giving herself insulin injections to manage her blood sugar, so I have a very personal interest in wanting to see advancements made in treatments and hopefully, someday there will be a cure. We made the decision recently to use my racing platform to promote a great cause and T1D was naturally our first choice, so I'm very happy to be working with JDRF on this initiative."
Business/Sponsorship Inquiries:  Robert Alfredo  – Email:  sdc87@comcast.net
Media/Sponsorship Contact:  Rod Wortham – Race Face Brand Development
Email: Rod@racefacebd.com  •  Ph: (727) 999-2628