Alfredo Runner-Up, Berry Caught Up in Hickory CARS Crash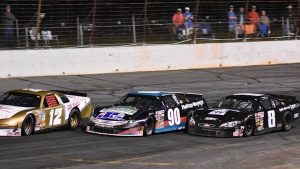 Track Specs: .363-mile oval / 138 laps
Alfredo's start/finish:  11th/2nd
Berry's start/finish: 6th/17th
HICKORY, N.C. – The Throwback 276 for CARS Late Model Stock Cars at Hickory Motor Speedway on Saturday saw JR Motorsports drivers Josh Berry and Anthony Alfredo solidly in the mix for the top spot, but in the end, neither got to Victory Lane. Alfredo did, however, emerge from the evening as the new point leader in the CARS LMSC.
Berry, who is very good on the .363-mile short track, had played the waiting game much of the night, hanging in the top five for most of the race before setting up a charge. Berry was fifth on a restart with 44 laps remaining and held the coveted low line heading off Turn 4. Second-starting Ryan Repko missed a shift, which stacked up the top lane, and Brandon Grosso and Jared Fryer got hooked together, sending Fryer's No. 44 machine down into Berry. The resulting melee, which also included then point leader Layne Riggs, ended any shot that Berry had of winning in his No. 38 Mom 'n' Pops Chevrolet, honoring Kelley Earnhardt Miller, JRM vice president and general manager, but allowed Alfredo to get into the top five to mount his own challenge.
Alfredo took up the JRM banner from there, sliding into third soon after the restart. As eventual winner Justin Carroll and Austin McDaniel battled over the final stages, Alfredo watched and waited before forcing the action three-wide with 20 laps remaining. From there, it was a full-on donnybrook, as Alfredo and McDaniel made contact several times over the waning laps. Alfredo eventually got past McDaniel for second, but his left rear tire was flat when he pulled into the pits after the checkered.
The runner-up finish combined with Riggs' involvement in the accident that eliminated Berry from contention allowed Alfredo to assume the CARS LMSC point lead. Berry, who entered the race third in points, could not gain after his accident. He finished 17th, two laps down.
Alfredo will carry JRM colors in the twin NASCAR Whelen All-American Series 40-lappers at Hickory this coming weekend.
Anthony Alfredo, driver No. 8 JR Motorsports Chevrolet team
"We were confident in the car but we ended up being a little off in the race. Bottoming out in the corners was our biggest issue. We fought hard and took advantage of some of the cautions to make our way to the front. Although we ended up one spot short, a lot went our way to put us in contention for the win and allow us to take over the points lead. It was an intense battle at the end and I'm thrilled we put on a good show for all the fans that came out."
Josh Berry, driver No. 88 JR Motorsports Chevrolet team
"Tonight was definitely pretty disappointing for me.  We seemed to miss it a little bit on the handling of the car, but we saved a good bit in the early part of the race.  The leaders had ran pretty hard and started to come back to us a bit, so I still felt like we had a good shot at a top three or maybe the win with how it played out.  Unfortunately, it was not our night, and we were swept up in a pretty big wreck.   I'm really bummed that we weren't able to take Kelley's No. 38 car and fight for the win, but that is part of racing.  I just want to give a big thank you to JRM and The Decal Source for all their help putting together the throwback scheme.  It looked great, and I can't wait to run the TDS colors at Concord in a couple weeks."