Alfredo Third in Hickory LM Twin, Caught in Crash in Nightcap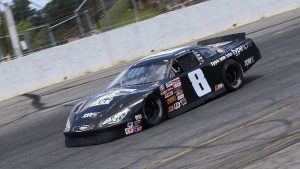 Track Specs: .363-mile oval / Twin 40-lap features
Alfredo's Race 1 start/finish:  5th/3rd
Alfredo's Race 2 start/finish: 8th/DNF
HICKORY, N.C. – Anthony Alfredo carried the flag for JR Motorsports on Saturday night at Hickory Motor Speedway, and earned a third-place finish in the first of two twin 40-lap NASCAR Whelen All-American Series Late Model races on the .363.-mile speedway. The second race, however, was a different story.
In the first race, Alfredo took off from fifth place at the start, keeping tabs on the lead cars for the first 30 laps. With six laps to go in the opening 40-lapper, the Connecticut driver passed for third place and two laps later, he had caught the second-place car. Coming to the checkered, Alfredo was side-by-side with the second-place car and finished third by half a car-length.
The second race featured a 10-car inversion, so Alfredo took the green in eighth. Two laps into the second 40-lapper, the leaders crashed off Turn 2 and stacked up the field. Alfredo squeezed through a small hole to make it through without any damage, coming away in fourth position. On the restart, Alfredo was on the high side and two laps later, the leaders were crashing again. Alfredo was forced to go high to miss it, but the leader slid up the track and into his No. 8 JR Motorsports Chevrolet. The result was heavy damage to the car, forcing Alfredo to retire from the race.
Anthony Alfredo, driver No. 8 JR Motorsports Chevrolet team
"I believe we had a good car especially with how it handled in the first twin where we just ran out of laps in order to compete for the win. We were in a decent position to race for the win in the second twin after avoiding the first wreck since there were still about 35 laps to go. Unfortunately, when the leaders wrecked the second time we got collected. I feel bad for our crew who always does their best to give us a good car."