Anthony Alfredo Chasing Victory at NASCAR K&N Visit Hampton VA 150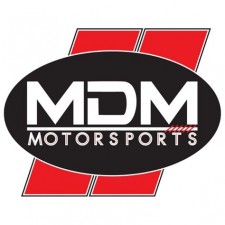 Hampton VA, April 25, 2018 (Newswire.com) – Anthony Alfredo and MDM Motorsports are preparing for this Saturday night's Visit Hampton VA 150 NASCAR K&N Pro Series East race at Larry King Law's Langley Speedway in Hampton, Virginia with only one goal in mind.
Win!
Alfredo, 19, will be behind the wheel of the Ceco Building Systems, Mechanic Shop, JDRF No. 40 Toyota for his third start in the series.  The Mechanical Engineering student at UNC-Charlotte ran in the top five for much of the opening race at New Smyrna and charged from the back of the field inside the top ten at Bristol in the second race with a car fast enough to finish on the podium.
Unfortunately, sometimes even the strongest of performances cannot guarantee a desired result.  Alfredo was eliminated in both races because of accidents not of his making. He and his team led by veteran crew chief Robert Huffman are determined to close the deal on Saturday at a track where Alfredo showed strong speed in a NASCAR Whelen All-American Series late model race earlier this month.
"I feel really positive about going to Langley," the personable Alfredo said. "We raced there with the late model a few weeks ago and I was able to learn a lot about what it takes to be fast there.  The only way to dig out of this hole we're in is to win races and see where the chips fall, so that's what we're planning to go do."
Currently, Alfredo is sitting 15th in points, 34 markers behind third-place Tyler Ankrum.  Todd Gilliland and Alfredo's MDM Motorsports teammate Harrison Burton are first and second in the standings, but neither driver is running for a championship in the series this year, making Ankrum the closest driver to the top of the standings who has expressed the desire to run the full schedule.
Alfredo does plan to run for a championship, and he knows the easiest way to win a championship is to win races so that's where the team's focus is, Huffman included.
"We're in it to win it the rest of the season," Huffman confirmed. "We're not going to worry about points or any of that. We're going to focus on getting as many wins from here to the end of the year as we can.  With Anthony having run the late model here already I think that will help us going into this weekend. It's all about checkered flags now."
Additional information about MDM Motorsports is available at www.MDMmotorsports.com, find us on Facebook and follow us on Twitter @MDMmotorsports.