Anthony Alfredo Optimistic After Tough Race at New Smyrna
On Feb. 11, the NASCAR K&N Pro Series East opened the 2018 season at New Smyrna Speedway in Florida. For UNC Charlotte freshman Anthony Alfredo, it was a landmark day for the driver. Previously, he made a name for himself in Late Model Racing.
In 2017, Alfredo competed in the CARS Late Model Stock Tour for JR Motorsports. Alfredo won twice in consecutive races at Hickory Speedway. Ultimately, he finished runner-up in the championship battle behind teammate and late model standout Josh Berry.
"My experience racing Late Models helped a bit in the race as far as racing other competitors," Alfredo said. "The experience I gained racing in the CARS Tour against some of the best late model racers in the country helped a bit from a competition standpoint."
The young racer qualified fourth to start his NASCAR K&N Pro Series East career in the New Smyrna 175. He ran in the to-five for most of the race locked in intense battles with Cole Rouse.
Even so, on lap 133, Alfredo's car went for a spin and collected Dillon Bassett.  Consequently, this incident ended the night for both drivers, with Alfredo placing 24th.
All things considered, Alfredo is optimistic about his chances to be competitive throughout the 2018 season.
"The result was not how we wanted to start the year off. But, we showed we will be a contender going forward and that was important," he said.
The 18-year-old driver from Connecticut will drive the No. 40 MDM Motorsports Toyota Camry full-time in 2018.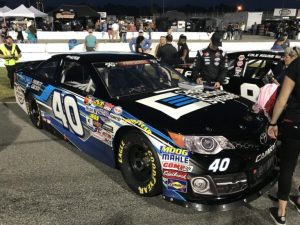 Anthony Alfredo, a UNCC freshman, sits on pit road alongside his No. 40 MDM Motorsports Toyota prior to the race at New Smyrna. (Photo Credit: Vincent Bruins)
Arguably, Alfredo said the difference between the Late Models and the K&N car are the radial tires. However, he felt comfortable behind the wheel.
By all means, he leaned on the knowledge of crew chief Robert Huffman and the rest of his MDM Motorsports crew.  In this case, being far down in points after the season opener does not worry Alfredo's crew chief Robert Huffman.
In fact, Huffman said, "We'll just take it race by race going for wins and see where the chips fall."
Next, Alfredo will return to a track he is quite familiar with as the NASCAR K&N Pro Series East heads to Bristol Motor Speedway.
"I am really excited about heading to Bristol for our next race," said Alfredo. "I was able to compete in the CARS Tour Late Model Stock race there last year.  And I feel I learned a lot of things that can help me heading back with the NASCAR K&N Pro Series."
Last year, MDM Motorsports won the K&N race at Bristol with Harrison Burton taking the No. 12 Toyota to Victory Lane. Alfredo is confident that his team will have the notes necessary to steer him towards a successful weekend in "Thunder Valley."
No doubt, Alfredo and his competitors will get back on the track April 14 for the Zombie Auto 150 at Bristol Motor Speedway.