Anthony Alfredo Teams With Peyton Sellers Racing for Langley Speedway NASCAR Late Model Opener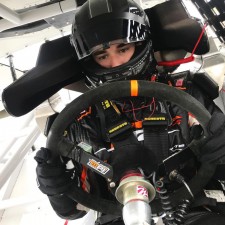 HAMPTON, Va., March 29, 2018 (Newswire.com) – ​Rising racing star Anthony Alfredo has teamed up with veteran Virginia-based NASCAR Whelen All-American Series racing team Sellers Racing to compete in Saturday's late model twin 75's at Larry King Law's Langley Speedway in Hampton, Virginia.
H.C. Sellers and second-generation racer Jeb Burton (son of former NASCAR racer Ward Burton) will head up the effort for Alfredo at Langley as he races there for the first time and seeks to get some experience for the upcoming NASCAR K&N Pro East Series race on April 28.
The personable Alfredo is looking forward to the weekend. "I'm excited to get back into a late model with Sellers Racing. They are a tremendous group of people, and I know they will be a huge help to me at Langley because they've had so much success there over the years. This should be a big race because not only is it the opening race of the season, but there could be a number of drivers there dialing their cars in for the upcoming Denny Hamlin Showdown race, which is just a few weeks away."
With his trademark smile, Alfredo noted that he has some added incentive to do well on Saturday. "Saturday will be my 19th birthday, so that will be fun to finally get to race on my birthday and see if I can bring home some hardware. I want to thank everyone who helped make this possible along with Sellers Racing and my marketing partners for their support. I'm ready to go get some experience, learn, and have a fun day at Langley!"
Some of NASCAR's most storied legends have competed at Langley Speedway over the years, including seven-time Monster Energy NASCAR Cup Series champions Richard Petty and Jimmie Johnson, Chase Elliott, and former Langley Speedway track champion Denny Hamlin.
The late models will run a pair of 75-lap feature events on Saturday night, with qualifying set for 4:30 p.m. and race time scheduled for 7 p.m. ET. Langley Speedway is a .397-mile oval that is beginning its 67th year of racing action. Fans who cannot make it to the track on Saturday can watch all the racing action at no charge on FansChoice.TV.
Additional information about MDM Motorsports is available at www.MDMmotorsports.com, find us on Facebook and follow us on Twitter @MDMmotorsports.
Media/Sponsorship Contact: Dylan "Mamba" Smith (704) 928 6602