Anthony Alfredo WINS at South Boston K&N Pro Series 100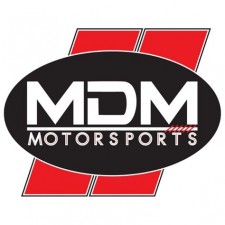 SOUTH BOSTON, Va., May 15, 2018 (Newswire.com) – NASCAR K&N Pro Series East rookie Anthony Alfredo scored his first ever series victory on Saturday night driving for MDM Motorsports in the Ceco Building Systems, Oxford Energy, JDRF No. 40 Toyota with a last lap pass to win the second of the two Who's Your Driver Twin 100 – lap features at South Boston Speedway in South Boston, Virginia.
For Alfredo and his team, the win was something to smile about in a season that has been a bit of a roller coaster, with strong performances but results that at times haven't shown the true capability of the team.
Making the win even sweeter was that it followed a crash in the first race that led to the team having to pull out a backup car for the second main.
Following the win, Alfredo, now fifth in the series championship standings, was smiling but honest about the evening's performances.
"After the mistake I made in the first race, I was going to do everything I could to give my guys what they deserve," the happy driver said. "I was overly aggressive at the beginning of that first race and put our team in a bad position, ruining other guys' day in the process. I still feel terrible about it. I had to just clear my mind for race two. The backup car was just as fast as the primary. It just proves how talented the people are at MDM Motorsports. It feels so amazing to get a win in this series. I cannot thank my team, my family and all my supporters who have helped me to get to this point enough for everything they've done."
Huffman offered much praise for his driver. "Anthony was locked in during that second race. He made a mistake in the first race, used it as a learning moment and moved on.  I think it was a benefit to have a twin night because he got to get right back in the car and forget about race one. He showed a lot of mental toughness, and we're all very proud of him."
Alfredo's next start for MDM Motorsports in the NASCAR K&N Pro East Series will be the Memphis 150 Presented by Auto Zone on Saturday, June 2.
Keep up to date on Anthony Alfredo's racing career…
·      Website: www.anthonyalfredo.com
·      Facebook: https://www.facebook.com/anthonyalfredoracing
·      Twitter: https://twitter.com/anthonyfalfredo?lang=en   
·      Instagram: https://www.instagram.com/anthonyfalfredo
Additional information about MDM Motorsports is available at www.MDMmotorsports.com, find us on Facebook and follow us on Twitter @MDMmotorsports.