CARS LM Title Within Reach of Berry, Alfredo at South Boston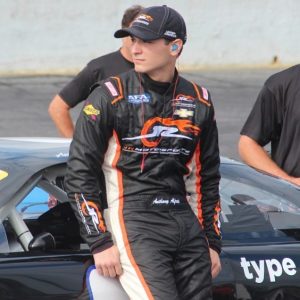 MOORESVILLE, N.C. (Oct. 13, 2017) – Josh Berry, the only driver in JR Motorsports history to have won multiple championships, has the opportunity to add to that record on Saturday night at Virginia's South Boston Speedway.
Berry trails season-long point leader Layne Riggs by a single point heading into the CARS Late Model Stock Car series finale on the .400-mile oval. JR Motorsports teammate Anthony Alfredo is nine points out and can also win the title, giving the Late Model team two shots at the title in a single race.
The tightest point battle in series history will come down to 125 laps (race begins at 7 p.m. ET) on the recently repaved oval. Berry, the all-time leader in CARS LMSC victories, has won four times this season and won four poles, and the three bonus points he'll receive for that at the conclusion of the race account for the tight margin. No other driver can surpass Berry's total in either category.
"I feel pretty good about everything," Berry said on the eve of the SoBo 250. "We have had a pretty good year, but had some trouble that caught up with us. There were plenty of times this year where I felt we were out of point contention and we climbed our way back into it. We're just going to kind of go into this the same as we have in all the other races we've run this year and do the best we can, be smart and be there at the end.
"Hopefully, the points will take care of themselves."
Riggs, 15-year-old son of former NASCAR driver Scott Riggs, has led the points since March. He's earned two wins along the way, but has watched Berry and Alfredo chip away at his advantage for the last 10 weeks. While Berry and Alfredo joined the rest of the Late Model community at Martinsville (Va.) Speedway for the ValleyStar Credit Union 300 last month, Riggs went to South Boston to run in the season finale, stockpiling experience for this weekend's event.
Berry has won at South Boston, back in 2015, but has not raced there since. The track was repaved prior to the 2017 season, and Berry said that was going to take some getting used to.
"That's going to throw another variable into it," the 26-year-old Tennessee driver said. "The old pavement would definitely have helped us, but nobody's really used to it. We'll kind of see how it goes. It's going to be faster, and I don't think it will drive any different."
Winning the driver's title would book-end the past two seasons for Berry, who won the owner's title in CARS last year. He still wants the big trophy though.
"It would mean a lot," he said. "I've won a lot of races and won championships for JR Motorsports, but this is a touring series. That's something I would definitely like to check off. Last year we won the owner's title, but my name is not on the trophy, you know? I have that desire to win it, because last year we won it, but we kind of didn't. I am not putting any crazy amount of pressure on myself to win it. We'll see how it winds up."
Alfredo, in his first season with JRM, has designs on the title as well. The 19-year-old Connecticut native is going in with every intention of taking that trophy home himself.
"After Concord, when we got in a wreck with about 50 to go, that set us back a little bit," he said. "We're nine points out of the lead, so we're both (he and Berry) right there. It looks like a lot of cars are going to be there, which helps my odds of putting a lot of spots between him and the leader.
"Miracles have happened before, so hopefully some things go our way. If they don't, hopefully we can come back home 1-2 as a team."
Berry said that Alfredo has as good a chance as anyone to do it.
"Anthony is still in it too," Berry quipped. "His goal is to see the end of the race, because if we have trouble he could be there to capitalize."
The youngster has had a solid season thus far.
"We've had a pretty good year," he said. "We have two CARS wins this year, eight top-fives and 10 top-10s. We've been pretty consistent all year, but we also had two DNFs, unfortunately. That's what kind of put us behind a little bit.
"But to be in contention all year long is something I'm pretty proud of in my first year with JR Motorsports. We've been working hard all year long and hopefully it pays off in the end. I'd love to get another win before the season is over, and to win that one (at South Boston) would be good because the bonus points from the race would help us in the championship standings."
It's been a good year for both drivers, too. Berry has six victories on the season, four in the CARS LMSC and two more in NASCAR Whelen All-American Series action. Alfredo swept both ends of a CARS doubleheader at Hickory, where Berry is nearly unbeatable.
Combined, the drivers have earned the six wins, adding 14 more finishes in the top five and 19 more top-10 runs. Berry's line is four victories, 12 top-five and 15 top-10 finishes.