Berry Wins Bobby Isaac Memorial, Alfredo Second for JRM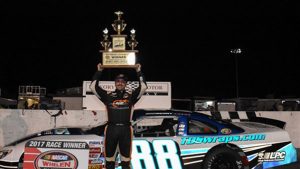 Track Specs: .363-mile oval / 150 laps
Berry's start/finish: 3rd/1st
Alfredo's start/finish:  5th/2nd
HICKORY, N.C. – For the second straight season, Josh Berry won the Bobby Isaac Memorial at Hickory (N.C.) Motor Speedway, and for added spice, JR Motorsports teammate Anthony Alfredo finished right behind him to give JRM a one-two sweep in the prestigious NASCAR Whelen All-American Series event on the .363-mile oval.
Berry, driving the No. 88 The Decal Source Chevrolet, started the race in third and dropped to fourth in the early laps, saving tires for the extra-distance event. He passed third-place Ryan Millington on a restart near lap 50, saving tires for the latter stages of the 150-lap race. Ty Gibbs led the first 85 laps from the pole before Justin Carroll took the top spot, and Berry got past Gibbs soon after to run second. On a restart with 50 laps to go, Berry slid past Carroll and held on for his second straight victory in the Bobby Isaac Memorial.
Alfredo shadowed his teammate all the way, moving up as Berry did, and passed Carroll for second within the final 10 laps. Carroll, who had won his past four starts at Hickory, was third at the flag, followed by Will Burns and Millington.
The victory was Berry's sixth overall and second this season at Hickory. Over the past two seasons, Berry has won seven times on the venerable oval, while Alfredo swept both ends of a CARS Late Model Stock Car Series event there earlier this year. As a team, JR Motorsports has won eight times in 2017.
Next up for Berry, Alfredo and the JR Motorsports Late Model team is the prestigious Valley Star Credit Union 300 at Martinsville (Va.) Speedway on Sept. 30. The race will be the first under the lights at the legendary speedway.
Josh Berry, driver No. 88 The Decal Source Chevrolet team
"The Bobby Isaac Memorial is always one of the biggest races of the year at Hickory. It was pretty awesome to win that for a second time with such a strong field of cars. It is a longer race for us, so it's always hard to tell how hard other people are using up their tires. I feel like we had the right strategy, and that showed again at the end. The last time we were at Hickory we seemed to struggle a bit, so it was nice to get some speed back in the car and get the win. We have built some momentum up over the past couple weeks heading into a lot of big races for us.  Next up for us is Martinsville, which is always one of most exciting races of the year. A big thank-you to The Decal Source for coming on board again, and everyone at JR Motorsports for giving me the opportunity to do this."
Anthony Alfredo, driver No. 8 JR Motorsports Chevrolet team
"I'm pretty content with our finish at Hickory. I really wish we could have won but to finish 1-2 at Hickory again with JR Motorsports in a significant event like the Bobby Isaac Memorial is great for our team. Our car was a little too free on corner exit and got worse as the race went on so I'm not sure what we would've had for Josh if we had a few more laps or a late restart. We needed a solid run like this after a tough last couple of races. Josh is really hard to beat at most tracks and especially Hickory, so to finish second to him is nothing to be ashamed of. This gives us some confidence heading into 'big-race season' and the rest of the year. I would like to thank my family, partners and JR Motorsports for their support."