MDM Cars Fast at Season Openers in Daytona and New Smyrna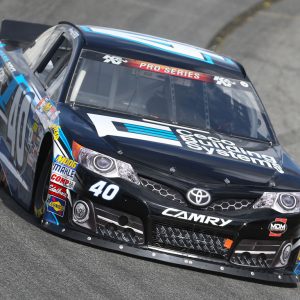 Daytona Beach, FL/New Smyrna, FL, February 16, 2018 (Newswire.com) –  Sometimes the strength of a performance outweighs the unpredictability of a result.  Last weekend, every single MDM Motorsports Toyota showed tremendous speed, running inside the top three spots at both Daytona International Speedway and New Smyrna Speedway and building momentum for the rest of the 2018 season in both the ARCA Racing Series and the NASCAR K&N Pro East Series.
All three MDM cars competing in the Lucas Oil 200 ARCA Series opener at Daytona qualified inside the top 15.  California racer Zane Smith qualified second, Chase Purdy third and Sheldon Creed 14th.
Smith in his #41 La Paz Margarita Mix Toyota led the first 24 laps before losing the lead on a pit road incident.  Running twelfth on the last lap, he was caught up in a multi-car incident on the back straightaway.  He finished 26th.
After the race, Zane was optimistic.  "I learned a ton with my first superspeedway race," he said.  "We started on the front row, we led laps, we raced our way through traffic and just got caught up on the last lap. The MDM guys brought me a great car and I'm ready to get after it at Nashville."
Smith's crew chief Mardy Lindley was happy with Zane's performance.  "We had a lot of speed and we're proud of how Zane did in his first speedway race. This gives us a lot of confidence going into Talladega. What happened on the last lap was just superspeedway racing. We'll regroup and get after it at Nashville."
Purdy also had a strong qualifying result, putting his No. 8 Bama Buggies / Polaris Toyota into the third starting spot.  He ran in the top five for most of the race and was in third place on the final lap before he also became involved in the same incident that eliminated his teammate Smith.  Chase finished 21st.
"I definitely learned a whole lot about plate racing this weekend.  One thing I learned is that putting yourself in position to have a shot at the end is key. I feel like we did that well.  I'm very proud of my guys and all their hard work.  I'm excited to get to Nashville."
Purdy's crew chief, Charles "Cully" Barraclough said of Chase's first superspeedway start, "Chase did an outstanding job for his first-time speedway racing. TJ Majors was very helpful from the spotters stand. We had a shot at the end and that's all you can really ask for."
Sheldon Creed was in the number 28 United Rentals / A.M. Ortega Toyota for the first time at Daytona, but it didn't take "The Showstopper" long to work his way to the front of the field. He took the lead on lap 26 and led 35 laps in the race, the most of any driver.
Creed was leading when the white flag was displayed but an incident on the back stretch brought out the yellow and set up a one lap shootout. When the field took the green for the restart, yet another incident brought out the yellow for the second time.
This time Creed was involved and cut down a tire, forcing him to pit. He restarted 12th and charged his way back to finish third.
"It was a fun race," Creed said afterward. "Jeff and the guys gave me a great car and made great calls all day. I'm really looking forward to Nashville. We ran really good there last year."
Jeff Stankiewicz also commented on Creed's efforts.  "I couldn't have asked for a better performance from Sheldon and the guys, it was just an overall good team effort. We played some strategy that worked out and Sheldon did all he could do to win the race."
MDM Motorsports invaded New Smyrna Speedway on Sunday for the season opening New Smyrna 175 NASCAR K&N Pro Series East.  Defending series champion Harrison Burton and rookie contender Anthony Alfredo were at the wheel of the team's cars.
Both drivers were lightning fast when they unloaded. Burton took his third career pole and Alfredo qualified fourth.
Alfredo and his No. 40 Ceco Building Systems / Oxford Energy Group Toyota ran in the top ten most of the day before getting caught up in a wreck on lap 133 that ended his night.
After the race, the easy going young racer was disappointed with the bad luck, but happy with the speed the team showed.
"I was pretty happy with our qualifying effort," Alfredo stated.  "I thought starting fourth was the next best place to be if we weren't on the pole since the outside lane is preferred. We ran in the top three to top five for the first portion of the race before pitting for adjustments at the first break. The car was starting to get too tight on us and never got any better after the break. We fell back a few spots but were able to maintain on the long run. Every time we would restart on the bottom we would struggle and lose spots to the outside lane. The result was not how we wanted to start the year off, but we showed we will be a contender going forward and that was important.  We will get ready for our next race at Bristol Motor Speedway on April 14. I'm really looking forward to that!"
Robert Huffman, Anthony's crew chief, was encouraged by the team's run.   "Anthony did great for us all weekend.  We're all new to each other, but to start off this fast is very encouraging for the rest of the season. We're in a hole points-wise but we'll just take it race by race going for wins and see where the chip fall."
From the drop of the green flag, Burton in his No. 12 Dex-Imaging Toyota took the lead and led the first 15 laps before swapping the lead back and forth with close friend and rival Todd Gilliland.
Burton led a total of 79 laps before he lost the top spot on lap 131. He and Gilliland battled hard late in the race, and with just two laps left, he used a bump-and-run move as they entered turn three, sliding Gilliland up the track to regain the lead coming to the white flag.
Gilliland struck right back, muscling his way back by less than a half-lap later to take the checkers.  Cole Rouse got under Burton to snatch second by a few inches at the line, shuffling Burton back to third in a finish that is still being talked about days later.
"This Weekend was a ton of fun," said the smiling Burton after the event. "It was awesome to have an opportunity to race for the win in my first race with Shane (Huffman) as my crew chief.  I am now even more motivated to get back out and get some W's for him, our team and our sponsors."
Huffman was very pleased with the performance.  "Harrison did an excellent job.  There is no doubting his ability as a race car driver. We all meshed together very quickly, which is going to pay off big later in the year. We said we were going to be aggressive this year and I think we proved that."
Additional information about MDM Motorsports is available at www.MDMmotorsports.com, find us on Facebook and follow us on Twitter @MDMmotorsports.