Three MDM Motorsports Drivers Selected for 2018 NASCAR Next Program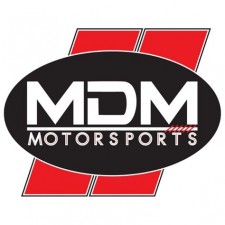 MOORESVILLE, N.C., May 17, 2018 (Newswire.com) – Three drivers from the MDM Motorsports stable have been selected to participate in the 2018 NASCAR Next program. NASCAR K&N Pro Series East rookie (and most recent race winner) Anthony Alfredo and ARCA Racing Series drivers Zane Smith and Chase Purdy were chosen along with six other drivers for this year's class.
The NASCAR Next program identifies emerging talent and helps them further develop their skills. Both Smith and Purdy are returning NASCAR Next drivers, while Alfredo will participate for the first time.
All three drivers were part of the official unveiling of the class on Tuesday's NASCAR Race Hub Show on Fox Sports 1, and then enjoyed a relaxing meet and greet with the media at Strike City in Charlotte later that night.
"It's really cool to be part of the NASCAR Next program again," Smith said between frames of bowling. "It means a lot to me. The program really teaches you to show your personality and be authentic, and it gives you so many opportunities to network with and learn from a lot of different people and different companies. I'm excited to just continue learning and do my best in my final program year."
The driver of the La Paz Margarita Mix, Icon Vehicle Dynamics, Speed Vegas Motorsports Toyota No. 41 added a bowling pin trophy to the guitar trophy he won at Nashville when he knocked down enough pins to win the bowling tournament and bragging rights for the year among the class.
"That was a blast," he laughed. "Today has been a lot of fun, from the whole experience with doing the Race Hub TV show to coming here, meeting with the media and having fun with my classmate's bowling and hanging out. I wouldn't be anywhere near this kind of an opportunity if it weren't for all of the people who've been behind me pushing me the whole way. I'm just thankful for all of them and excited for the future."
Purdy, who drivers the Bama Buggies, Polaris Toyota No. 8 and will be a Freshman at the University of Alabama in the fall majoring in Business Finance, echoed Smith's sentiments. "I'm humbled to be back for my second year in the program. It's an honor to be a part of it. It gives all of us a chance to show who we are and why we deserve to be where we are and to learn how to do that well. You must be able to connect and communicate with so many different types of people in the sport, from fans to media, sponsors, and team owners. The program teaches us about all of that. I'm thankful for the opportunities that NASCAR Next provides."
For Alfredo, the driver of the Ceco Building Systems, Oxford Energy, JDRF Toyota No. 40, the program is new to him, but he's eager to see what it has in store. "To even be considered for a program like this is an honor," he said. "To be chosen to be part of it means that all the sacrifice that so many people have put into me to help me to get this far in racing is really beginning to pay off. Being a full-time college student and a full-time racer is a real challenge and this just makes it all worth it. I am really humbled by it. I just want to make sure that I make the most out of it and use it to make myself better. I'm looking forward to the experience."
Keep up to date on Anthony Alfredo's racing career…
·      Website: www.anthonyalfredo.com
·      Facebook: https://www.facebook.com/anthonyalfredoracing
·      Twitter: https://twitter.com/anthonyfalfredo?lang=en   
·      Instagram: https://www.instagram.com/anthonyfalfredo/
Additional information about MDM Motorsports is available at www.MDMmotorsports.com, find us on Facebook and follow us on Twitter @MDMmotorsports.
Media Contact: Rod Wortham
Email: Rod@racefacebd.com
Phone: (727) 999-2628