"Hi everyone, I hope you all had a great Thanksgiving weekend and enjoyed spending time with your families. Our season ended a little over a week ago at Myrtle Beach Speedway in Myrtle Beach, South Carolina. It was unfortunate that our shot at the win was taken away by a mechanical failure, but those things happen in racing and all you can do is use it as motivation for the next race. It was the last way the team and I wanted to end the season but to have a strong run going in one of the biggest races of the year is something I am proud of. We definitely had a great year overall. There were both good days and bad days but we always improved and grew tremendously. To win three races, finish in the top five 14 times and the top ten 22 times shows our consistency. Also, to compete for a championship in the most competitive late model stock car touring series and come out second in points is most definitely an exceptional performance. I am grateful for my parents, family, partners and JR Motorsports for making this race season a reality for me. I am so fortunate to have the opportunity to pursue a career in my passion. It has been amazing to help raise awareness for Type 1 Diabetes with JDRF and work with Ceco Building Systems this year. It has also been awesome to work with JR Motorsports. I have had so many great experiences helping out in the shop, working with the employees in the "front office", and of course at the track with the late model team. Everyone has been so welcoming and fun to work with. It was really cool to work alongside Josh Berry as a teammate since he is someone I have always respected as a racer. I am also very appreciative of the hard work and dedication of my crew chief, Bryan Shaffer, and my car chief, Steven Civitarese. I am so thankful for the help of everyone this year. I have learned so much on and off the race track. Additionally, we have been working hard on making plans for 2018 and I am looking forward to what opportunities await. Lastly, I want to thank all of you for your support. I hope we can continue on this journey to the top together."
Hi everyone, I hope all is well and you are enjoying the last few days of warmer weather as we transition to fall and then full-blown winter strikes. We just wrapped up the final race of the CARS Tour last Saturday night at South Boston Speedway in Virginia. We finished ninth in the race and wound up second overall in the championship standings to my JR Motorsports teammate Josh Berry. We did all we could in the race but unfortunately we still needed a few more points to have won it ourselves. It was a lot of fun competing throughout the CARS Tour this season. The series has done a great job by making the it one of the most competitive in Late Model Stock Car racing with good car counts on a regular basis. As a rookie in the series and in my first year working with JR Motorsports, I am happy with our results and consistency throughout the year. I feel we have grown a lot and that we can apply that in this final stretch of races coming up. It would have been great for us to win the championship, but to still finish first and second as a team is pretty cool. It feels good to have competed with veterans like Josh who have had so much experience and success in these cars all year. I am thankful for the help of everyone at JR Motorsports and the crew's hard work to keep us in contention all year. I also am grateful for the support of my family, partners and of course, you fans. We still have a few more races left before the season is over. The next race is the Fall Brawl at Hickory Motor Speedway this Saturday night. Hickory is one of my favorite race tracks and one we have performed well at so hopefully we can have a strong run. Talk to you soon!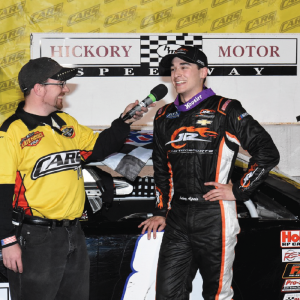 Hi everyone, welcome to my new website. I appreciate you checking it out and hope you like it as much as I do. This is where I will be making blog posts regularly. It will not just be limited to racing related topics, but other "life things" as well. Feel free to navigate around the website. It may be my own, but I still explore all the different sections because I am super happy with how it came out. Thanks again for your support. It's time for me to get back to work now that I am a full-time college student. Talk to you soon!